LEADING CAR RENTAL BRANDS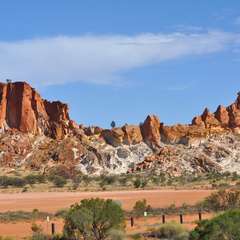 Cliffs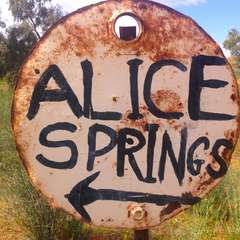 Handmade Sign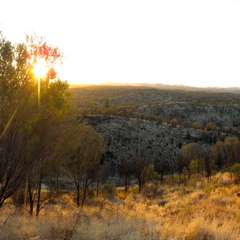 Outback View
Popular Rental Cars in Alice Springs
Address: Alice Springs - 8 Kidman Street, Alice Springs, Not, 0871, Nt, Northern Territory. To check for other local car rental hire depot locations in Alice Springs, select search above.
Going off road or to some out of the way place? Why not have an adventure with a 4x4 or SUV. Here are some examples to compare prices: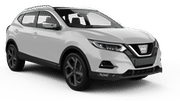 Nissan Qashqai


5 3

5
Small cars that are easy to park, economy size is ideal for driving in those busy city streets. Here are some examples to compare prices: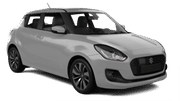 Suzuki Swift


5 2

3
Note: These are indicative examples only. For accurate car comparisons and prices, enter your dates into the search above.
Alice Springs - Driving Ideas Guide
Most people arriving in Alice Springs either love this place or hate it.  But whatever your thinking it tends to be a starting point for many people to explore the Red Centre to the North and to the South. There's no denying it has many excellent restaurants and a wide range of places to stay, but it is probably the first encounter many people will have with the outback aborigines that make up the Indigenous charm of the place.
For a land so isolated from the rest of the World, travelling 4 hours to Uluru-Kata Tjuta National Park is a relatively short drive away. The stunning MacDonnell Ranges are to the east and west of the town centre, and very close in you can find yourself among ochre-red gorges, with colonies of tiny rock wallabies, light colored hills and spirit grey-white gum trees all adding to the mysticism of this ancient outback land.
If you are here, then there is a chance that you will be willing to absorb some of the wonders that surround this town, to take away a lasting impression and get the most out of your rental car.
The MacDonnell Ranges consist of hills and gorges of natural beauty stretching 200 kms either side of Alice Springs.

 

Here are a couple of the highlights worth driving a relatively short distance to.
Alice Springs to Standley Chasm
45 min to Standley Chasm via via typically (49.5kms) via Larapinta Dr/Red Centre Way/State Route 2
Named Angkerle by the local Aborigines, the Chasms European name comes from honoring Mrs Ida Standley who became the first school teacher in Alice Springs in 1914.  In 1925 a school specifically for Aboriginal children was moved from Alice Springs to Jay Creek [Iwupataka] and Mrs Standley was the matron.
During her time at Jay Creek she became the first non-Aboriginal woman to visit the feature that now bears her name.
The setting is unreal amongst shady trees on the bank of the Angkerle Creek. There is a small kiosk cafe here if you want to have a light snack, dinner or coffee.
Visiting here around lunch time is best, as the sun creates a spectacular lightshow as it passes dramatically through the crevice.
Alice Springs to Simpson Gap
27 min to Simpson Gap via Larapinta Dr/Red Centre Way/State Route 2
Another must see with dramatic cliffs, scenic waterhole and the mulga bushland, is Simpson Gap. Getting out of your rental car and continuing on foot will help to connect you better to the landscape and appreciate the ancient rock formations, the fauna and flora and perhaps the aboriginal way of existence. The famous Larapinta bushwalking trail passes close by and continues through the West MacDonnell National Park and is an excellent walk to experience all of this up close.
Alice Springs to Finke Gorge National Park
1h 29 min to Alice Springs (127 km) via Larapinta Dr/Red Centre Way
Drive south for a sight to behold where you can see the red cabbage palms found in the lush Palm Valley, which also is home to a wide range of diverse plants.
Finke Gorge National Park to Rainbow Valley
3h 1 min to Rainbow Valley (90.5 km) via National Highway 87
We recommend travelling the extra distance to the east and into the Simpson Desert, which starts from from near Alice to the South Australia border. Here you can witness the outstanding and memorable scenery of Rainbow Valley with its majestic sandstone bluffs and rainbow-like bands, Chambers Pillar, rising in a 40 metre rock tower column, straight up from the flat desert.
At Cheaperthancars and Cheaperthanhotels we offer a wide range of choice of deals on both rental cars and accommodation around Alice Springs. We really do believe that the less you spend, the more you will be able to do with the savings when you get there.
Your Cheaperthancars Team